Bamboo Planters
I build bamboo planters. The shape and design are simple. The tapered design allows for ease of maintenance year after year. Other planter designs make it impossible to remove the bamboo for maintenance (especially the metal ones). This maintenance is mandatory for bamboo. If you cannot get the bamboo out of the planter, it will become root bound and eventually die. These planter's prevent this problem of not being able to root prune the bamboo. For more information on this maintenance please refer to
Bamboo Maintenance
. These are products with long term sustainability in mind.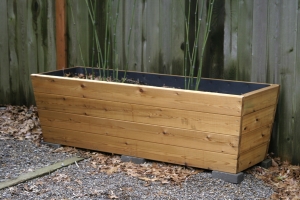 Features
all boxes are lined inside with 60 mil HDPE bamboo barrier material
wood sealed with protective outdoor oil
interior floor consists of wood supports and mesh, to hold soil
concrete block feet
screwed together rather than nailed to keep structural integrity
the lining, together with the tapered design, prevents wood rot
Sizing
All the boxes are 2 feet tall by 2 feet wide and the length can vary in foot increments. The standard planter size is 5 foot in length. However in some situations a 4 foot long or a 6 foot long can work better.
Materials
Most planters are built with Cedar or Kiln dried Douglas Fir that is coated with oil. Availabilty of reclaimed wood is limited.
Pricing
| | | |
| --- | --- | --- |
| Wood | Size | Price |
| doug fir, oil coated | 2'x2'x5' | $275 |
| reclaimed doug fir, oil coated | 2'x2'x5' | $275 |
| cedar wood, oil coated | 2'x2'x5' | $350 |
| reclaimed cedar, oil coated | 2'x2'x5' | $350 |
Installation and Delivery
If you also require installation and delivery, I can transport the container or container's anywhere in the greater Portland area. Delivery includes supplying soil and gravel for the container. If you would also like to purchase a plant to be installed, see our
bamboo for sale
.
Interested?
Preorder or request more information by
contacting me.